This post was written by JohnnyJet for Fly to post on this blog. Check out johnnyjet.com to see more content like this.
---
With all the recent mergers, expansion of incidental fees, and devalued frequent flier programs, flying with a major airline doesn't have the same luster as in the past. Sometimes, the major carriers are still the most cost-effective and time-effective way to travel, but, you might want to give one of these best low-cost airline carriers a try.
Southwest Airlines
For domestic and Caribbean flights, it is hard to compete with Southwest. One-way flights can start as low as $69 in many instances, your checked bags fly free, and they don't charge change fees.
If you really love Southwest, you can qualify for their Companion Pass that allows your traveling companion to fly for free for almost two years. All you have to do is pay the applicable fees and taxes which are about $11 per flight. To get an extra step in earning the Southwest Companion Pass, you might consider applying for a Southwest credit card.
Norwegian Air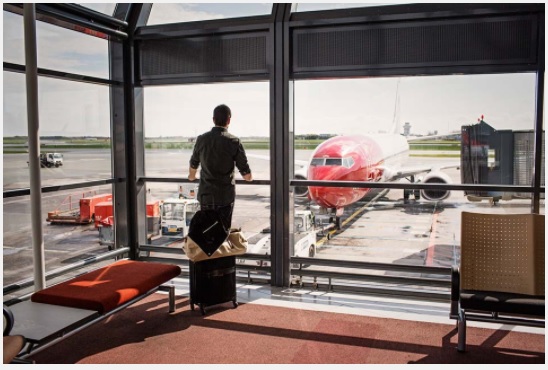 Norwegian Air is considered one of the best low-cost, long-haul airlines. They fly from across the continental U.S. to various western European destinations.
For less than $250 for an economy one-way flight, you can fly from Denver to Paris or from Seattle to London. During the off-peak season, you can even fly to Europe for only $99 to visit Ireland and Edinburgh from New York-JFK, Connecticut, and Providence airports.
You do need to be flexible with your travel days as there might only be two or three flights each week.
Virgin America
Virgin America was acquired by Alaska Airlines in 2016 and reports indicate Virgin will assume Alaska Airlines name in 2019. Until then, you can continue to enjoy some of the best service quality in the industry at discount prices.
You will occasionally find a flash sale with Virgin America for flights less than $100. Otherwise, you can find transcontinental U.S. flights in the mid-$100s range.
Your points can also be transferred to Alaska Airlines to take advantage of discount flights from the U.S. west coast to Hawaii. And, you can also transfer your Platinum Card from American Express Membership Rewards points too.
JetBlue
JetBlue offers domestic flights for less than $150 from the East Coast to destinations west of the Mississippi including Austin, Las Vegas, L.A., and Seattle. You can also find flights from New York to Charlotte for under $100.
You can also get free checked bags with the JetBlue Plus credit card. And, you can also get one-way reward flights starting at 5,500 miles plus $5.50 in taxes and fees. These are some of the cheapest award flights for a domestic carrier.
EasyJet
Getting around Europe can be a breeze with EasyJet. While there are many good options including RyanAir and British Airways for short haul flights, EasyJet flies out of major airports and can book one-way flights for about $50. In all, you can fly to approximately 800 destinations including Egypt and Tel Aviv!
Even if you use a major carrier to cross the pond, you can quickly navigate to the EasyJet gate to catch your connection without having to take a train or taxi across town.
XL Airways
As a 100% French owned carrier, XL Airways strives to provide the best transatlantic flights for the lowest possible price. With each flight, you get one free checked bag and a hot meal.
It is possible to fly from Paris to New York for $490. You can also on XL Airways from the Caribbean and Saint Denis off the east coast of Africa. Some flights are seasonal and might not be available at the moment.
The entire XL Airways fleet consists of Airbus A330 planes.
Azul Brazilian Airlines
Azul Brazilian Airlines is the latest creation of JetBlue and WestJet co-founder David Neeleman. They are one of the best low-cost airlines for South America and should be on your shortlist when you want to visit Brazil.
Currently, Azul Brazilian has hubs in Miami, Orlando, and Ft. Lauderdale that allow you to fly to over 100 Brazilian destinations.
A one-way economy flight starts at $400 from Miami to Sao Paulo. When you are ready for your return flight, Azul offers a bus that will pick you up in Sao Paulo and Parceiros to drop you off at the airport hassle-free.
Air Asia X
Air Asia X is the low-cost subsidiary of Air Asia. They are a great option for premium cabin flights and also to travel around Oceania.
You can fly from Hawaii to Osaka for $159 one-way. Air Asia X can also be a cheap way to fly to Phuket, Thailand, and other destinations when you want to "island hop" around Asia or visit Australia first. They also just rolled out a transfer service to easily get between Thai islands and cities that extremely difficult to reach by car or boat.
Even the full-service Air Asia is also a great option when you fly in the Eastern Hemisphere.
Jetstar
Jetstar lets you quickly and easily get across Australia and Asia. They are also the low-cost carrier of Qantas.
Weekday economy flights from Honolulu to Austrailia start in the low $200s one-way. If you are flying from Australia to Asia, fares start at $125 Australian. And, you can get local Australian flights for $55 Austrailian one-way economy.
Thai Airways
If you are looking for good first-class flights, you will enjoy Thai Airways. As a United MileagePlus member, you can secure first-class seats for 30,000 miles for flights between South Asia and Australia/New Zealand. This can be an excellent use of Chase Ultimate Rewards points from the Chase Sapphire Preferred. As a heads up, this award offer will change on November 1, 2017, when United makes negative changes to their award program.
It is also possible to find travel deals originating from Japan as well.
---
Click HERE to find flights with major carriers.
---
Fly Updates
Here are a few ways to stay connected with us:
Subscribe to the Fly blog.
Fare Calendars – This tool shows the best deals from the nearest major airport and allows users to create a custom fare calendar for any route (scroll to the bottom for this functionality).
Keep an eye on Today's Best Fares.
Check us out on social media